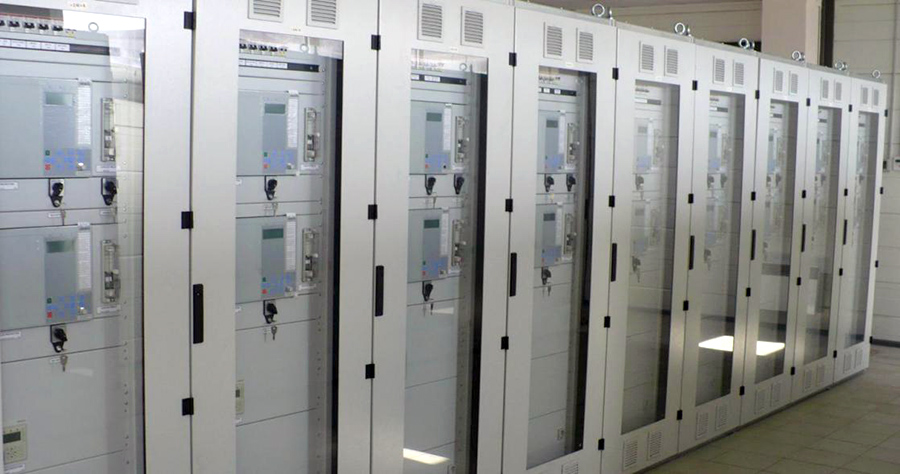 Corporation Elektropivdenmontazh develops and assembles a wide range:
     ​- Relay protection and automation cabinets
     - Automatic process control cabinets
     - RTU cabinets
     - Automation accounting system 
and other cabinets for power industry facilities. Extensive production experience, perfect elaboration of constructive and technical solutions, individual approach and adaptation to the real object allows to have high-quality products.
The cabinets are made individually according to the basic schemes of the Customer or according to "author's" projects with coordination of design, basic and assembly schemes at all stage of production and commissioning. When designing products, the convenience of their operation by regular personnel must be taken into account.

The rigidity of the metal structure of the cabinets eliminates unacceptable deformations during the installation of all necessary devices. The modular system for installation of the equipment allows to unify a design.

The cabinets have a number of designs and characteristics:
Cabinets, panels, boxes;
Indoor and outdoor installation;
One-way and two-way service;
As options the rotating frame for one-way service cabinets;
The structures made of sheet metal, galvanized sheet metal or stainless steel;
The degree of protection provided by IP54;
Height 2000-2200 mm, further height is regulated by a socle;
By default color is RAL7035 (gray). The class of a paint corresponds to the VI class in accordance with GOST 9.032, thickness of a covering from 50 to 100 microns;;
Rear doors are single-leaf or double-leaf;
natural and mechanical ventilation;
To internal installation uses flexible stranded copper wires with a rated operating voltage of at least 1000 V;
The wires are mounted in perforated PVC trunks;
Cabinets are equipped a kit for grounding of all metal parts;
can be equipped with lighting on the mounting side and a ~ 220 V socket;
can be equipped with locks and opening angle stops;
Loading capacity of a standard cabinet is 500 kg. the frame can be reinforced;
The finished product develop with the technical requirements of the Customer.
The cabinets can be made of constructs from Rittal, TVD, ABB, Сonteg, DKS, etc.
Samples of cabinets:
Interlocking cabinets on SEL controllers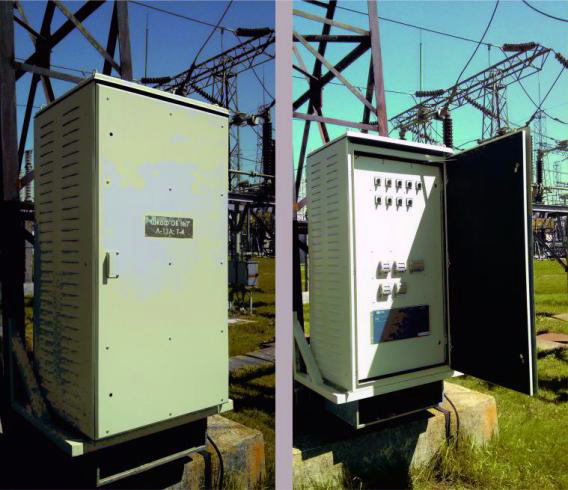 ABB RTU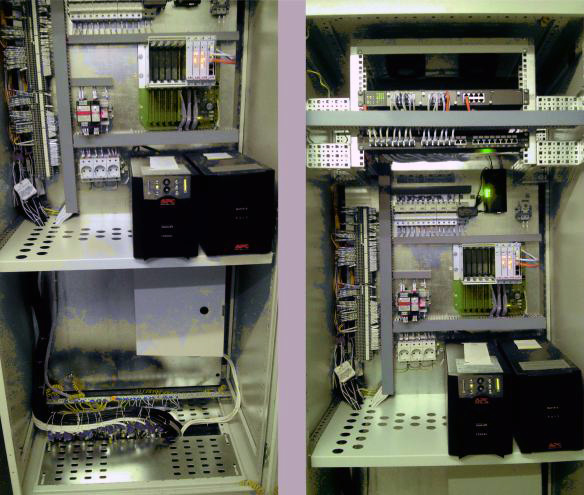 Substation «Donbass 750 kV»